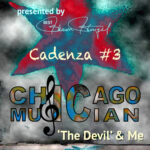 After nearly 2 1/2 years out of work due to the pandemic, I've recently returned to work. And it's a really good job. I'm playing in the pit for the pre-Broadway production of a new musical, 'The Devil Wears Prada'. Things have changed since I last worked on a show before the Covid-19 pandemic. Here's an inside peek at how a musical gets put together. It's an insider's guide to what and how pit musicians contribute to a new musical. This is a very big production with a lot of high-powered people behind it. They definitely have their eyes on taking this show to Broadway. I have a few thoughts and observations about the process so far.
I'm very grateful for the chance to be doing a show again, and to be working with great professional musicians. I hope you enjoy the view from the pit of 'The Devil Wears Prada' in Chicago.
Like most productions with New York producers, most of the music team comes to Chicago, already in place. 'The Devil Wears Prada' is one such production. The Music Supervisor, the Music Director and the Orchestrator all came to town with the show. In addition, the assistant conductor and the drum set player also are New York based. The rest of the band is hired locally. In this case, that means 12 local musicians. And, in this world still in the midst of pandemic, each local player has to have a 'covid sub'. . . someone who may not even be scheduled to play a performance, but who's job it is to learn the book of whomever they're subbing for, and to be ready to jump in. . . show or performance, if needed. It has, in fact, already happened.
Musicals are hard to do. They are even more complicated than they used to be given all the new technologies in play. And speaking of 'plays', the story is still the thing. The technology can only support the telling of the story. Humans still need to get that part right. That's why we're still rehearsing!