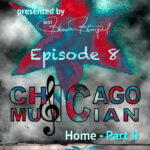 Continuing my family home farewell, I talk to my siblings and their spouses. Then I chat with my parents. . . my parents as they are now. My dad has advanced speech dysplasia so he has huge struggles making himself known. But he tries. And my mom has dementia. She still sounds like herself, but her short term memory is shot. And, as you'll hear, her long term memory ain't so great either. For this episode especially, I recommend going to my photo site (there's a link to Shawn's Photos on the home page. And a link on that site to get back to BestShawnStengel.com) and checking out the Chicago Musician gallery. There is video of all the interviewees and about a minute with my parents. . . it's sweet and a little heartbreaking.
There is also some footage of me singing with my nephews (alluded to in my interview with the parents). It's the song we sang at Heidi and Matt's wedding 3 years ago. Although I didn't get her on tape, you'll see Heidi in the video sitting in front with Matt. With mom and dad perched behind them. Plus some piano playing by the soon-to-be-I'm-sure-prodigy, Ada Mae. She's Matthew's 2 year old daughter.
Overall, we had a great weekend at 'home'. We strengthened family bonds and made some new memories. We played Pounce (THE family card game. . . basically Solitaire, but everyone can play on the cards out on the table. It gets wild and woolly!), ate, sang, laughed. And a little bit of sorting. It was a kind, gentle, somewhat sentimental Family Home Farewell.
Wait, I need thirty seven more words to hit my ultimate SEO number. That means I have to keep typing just a bit longer. About my family home. Because that's what this episode is all about. Home. My Home. Saying farewell to our family home.