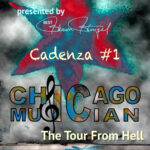 Host Shawn Stengel revisits a colorful early-career adventure. He toured with a D level production of The Phantom of the Opera: The Play: With Music. A producer with possible 'family' connections, a lower than low budget, a troupe of artists with a "wide range" of ability levels, and a company manager who's main qualification is being a former Chippendale's dancer. . . what could possibly go right?? The story of musical theatre on the road. . . to hell?
Musical theatre is a tough business to work in and not everyone is qualified to do it, or at least, to do it well. Touring productions add on even more logistical challenges. . . moving an entire company of actors and crew plus a set from city to city, and then doing it again. Good singer versus adequate singer. Great actor versus non-actor. Production values versus no value. It all matters. And most of it costs money. A lot of money! This story is about a show that DID NOT have a lot of money or expertise. From incompetence to disastrous to egregious greed, this was indeed a Tour From Hell.
Welcome to Cadenza #1 on Chicago Musician.
Phantom of the Opera. Gounod's Faust. Peter Pan. Pump Boys & Dinettes. Andrew Lloyd Webber. Maury Yeston. Prince Charles. Cathy Rigby. Diva. Chicago. Seattle. JK Simmons. Phoenix. Charleston, South Carolina. Walla Walla. Chandelier. Portland. Denver. Carbondale. They're all in this story someplace. Whether they deserve to be or not.