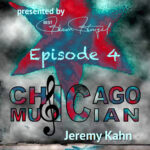 Jeremy Kahn talks piano jazz, Cubs, winter sports, movies, and so much more. He's one deep cat! Jeremy is an in-demand pianist with incredible jazz chops. He also has a great sense of humor, and a reasonably pleasant demeanor. To say he is 'well read' would be. . . saying something. . . Check out his website listed below for access to his recordings, videos, and musings.
Jeremy has interesting takes on being a jazz pianist, approaching improvised solos, the art of damage control. He also reveals his favorite repertoire (it might be the Great American Songbook!), and being a working musician in today's professional environment.
Shawn makes his case for Peter Jackson's (The director of the mammoth "The Lord of the Rings" film franchise) "The Beatles: Get Back" & "Summer of Soul", which just won an Academy Award as well a Grammy Award for its director, Questlove..