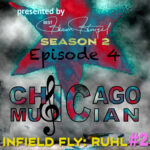 More with Malcolm Ruhl. At the end of Part I (last episode), Malcolm was just about to make his Broadway debut. So yes, there is more discussion of 'Pump Boys and Dinettes', but it's a pretty interesting tale. And understudying 4 roles on Broadway is just the tip of the iceberg for Mal's journey with 'Pump Boys'. After stops in Cleveland and a stint on the national tour, Malcolm finally gets to Chicago. That happens pretty much at the hands of one producer, Michael Cullen. He brings a cast of 'out-of-towners' to the Apollo Theatre, convinced that he can make this happy, singular musical a hit. And boy, does he!! The show ran for nearly 5 years and was a sold out hit much of that time.
This is where my story with Malcolm finally intersects. And we do get there. Eventually. I found so much of Malcolm's path in showbiz to be unusual and unpredictable, so I didn't want to leave any of it out. (I left out plenty, btw.) When Malcolm Ruhl does finally make it to Chicago, he stays. Oh sure, there was multi-year detour to Branson, MO stuck in there somewhere, but essentially, Malcolm became a Chicago musician.
Malcolm Ruhl has been a Jeff Award winning music director, arranger/producer of recordings, an actor/musician for many years in Goodman Theatre's 'A Christmas Carol', had his own band, Radio Max, was part of a Western swing trio with Ollie O'Shea and Jim Lauderdale called West River Boys, he's taught private music lessons, he's been married and has two children, he once planned on building and leaving in a geodesic dome home somewhere in Michigan, and still, after all that, loves to play and create music.
Check out his website:
malcolmruhl.com
There you'll find his resumé, some recordings, info on teaching and much, much more.