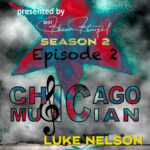 Luke Nelson wears many hats. Many are metaphorical. But not all. He is a prolific songwriter, composer, arranger. He's a multi-instrumentalist. Sometimes he's an actor. Other times he's a singer. He can construct a lead sheet or a personalized commercial theatre program. He's a husband, a father, a teacher, and a jazz aficionado. And that's just some of the hats he wears.
Luke is currently based in Connecticut, but has spent time in New York City and also in Chicago. During his Chicago years, he fronted his own band called Luke and the Cool Hands. Hard to categorize and through various incarnations, Luke wrote and performed songs he wrote for himself and two female singers. Sometimes with a band, sometimes without. Originally more of a 'cowgirl music' group, Luke integrated his love of jazz harmonies and sophisticated lyrics with the flavor of the old west to create his own, truly unique genre. Country-Cowboy-Swing-Jazz might be one way to frame it.
Luke and the Cool Hands recorded two albums of Luke's original tunes. Those and a whole lot of new material can be seen and heard on Luke's YouTube channel, Nelsongs TV. https://www.youtube.com/@nelsongstv2600/videos
Luke has also had an interesting career as an actor. He has performed across the country in Pump Boys & Dinettes. He acted at the Goodman Theatre in Chicago, on TV in The Untouchables, in Woody Allen films, and much more.
He currently teaches at the prestigious Hartt School, a performing arts conservatory within the University of Hartford.